Athlean
Xero
100% Body Weight Training Program
Meal Plan Included
No Equipment Needed
150+ Bodyweight Exercises
Lifetime Access
Original Price
$97.00
You Pay
$79.95
No Equipment Needed
150+ Bodyweight Exercises
Lifetime Access
Meal Plan Included
YOUR BODY IS THE GYM
In just 6 weeks turn your body into a muscle building, fat burning machine without ever stepping foot into a gym. No matter your current fitness abilities ATHLEAN XERO will help you improve the way you move, look and feel without ever needing a single piece of equipment.
NO BENCH. NO BAR. NO BANDS. NO BULL!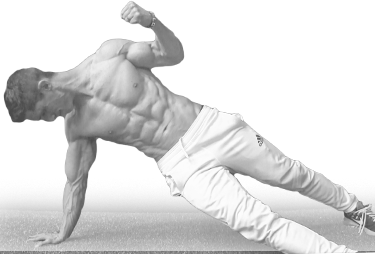 Program Focus:
Builds Muscle, Burns Fat, Bodyweight Training
Skill Level:
Beginner to advanced
Training frequency:
5 days per week
Required Equipment:
None
FROM XERO TO THIS IN JUST 45 DAYS!
Austin Williams - 17 Years Old
Chris Weber - 26 Years Old
Max Bauer - 27 Years Old
Robert Reid - 27 Years Old
Russell Byrne - 48 Years Old
Frederik Homaa - 24 Years Old
Henrik Andersson - 28 Years Old
Daryl Eagle - 25 Years Old
Customer Reviews
xero

|

Verified User
Perfect program if you don't have access to equipment or a gym!!
I really enjoyed how the program makes you move in ways you're not used to. Also pleasantly surprised at how heavy and taxing body weight only exercises can be! I've been recommending this program and will continue to so. Thank you Jeff!! Thank you Athlean X!!
xero

|

Verified User
It works. So easy despite no weights. The ideal program to use over the Covid period. Thank you for putting it all together.
xero

|

Verified User
Very good option when you need to work out without any equipment
What I have liked the most in any athlean program is that the work out after another keeps things fresh. I personally get bored quickly when you have to do the same things over and over again. I would not have guessed in the beginning of the program of how much of fatigue you could cause to your muscles without any equipment. I must admit, I would have liked the program a little bit more if the split would not have been whole body split and little bit more towards the nxt series. Overall, must admit good program in which you can work out wherever you want.
xero

|

Verified User
I watched a lot of your Videos and learned very much about Weightlifting the right way. I wanted to dig deeper and take something I can take to my Basketball Practice. I got way more then that. Every now and then I would have liked a little more detailed explanations buw over all I am very satisfied with this workout.
xero

|

Verified User
The Athlean-X Xero program is the best purely bodyweight program I've ever used and I was always being challenged the entire time with the workouts. I highly recommend it to anyone who wants a workout program that they can just do at home. The workouts are very diversified so you never get bored.
xero

|

Verified User
I'm an officer on cruise ships. This year we had, as you know, crisis, and my ship was tasked to return crew to their homes, Americas, Africa,Asia…. Long story short I spent 7 months on board, plus now I'm back on board trying to prep for restart. This whole operation has limited our trainings and various rules have been enforced to close ships gyms, and frequent cabin quarantines are done, I'm now on my 14 day one… As a regular gym person, I struggled a lot until I started doing xzero. I can see my strength and ability improve differently than in the gym. I combine this with other programmes, so I do some rubber bands and core workouts too after Xero or later jn the day. The challenges and constant change of pace makes every day special, and thus I can truly say this is a lifesaver for me. Physically, but also mentally. I've travelled 5 continents on a ship doing xzero, youre a hero Jeff.
xero

|

Verified User
Great! The only bad thing was that it took a litle too long time when it was a lot single arm/leg workouts
xero

|

Verified User
It`s great program for beginners. I was trying max shred at first but failed very soon. Xero gives you options to start with – 2 below and 1 below – depending on your physical readiness. I started with the later and already after 1 month of training I`m very different person. At least physically. (Oh, also recommend core4 program. It`s great with xero.) Fun fact: when I see 'Rest and Recovery' in my dashboard I`m feeling slightly disappointed 🙂
xero

|

Verified User
Started from -2 made my way to -1 it was in -1 that i started filling stronger once i got to xero it was fun and thought all at once
Got immediately gains cant wait for more stuff
xero

|

Verified User
Best Bodyweight athletic program I've ever have
I've been using Athlean Xero program for 10 weeks now and my results has been majestically magisterial. Literally, when I first started the program I had to put my body to the test to see my level of fitness. There was 3 levels : Xero below 2, Xero below 1 and Xero. I had Xero below 1. The purpose of it was to get me ready for Athlean Xero. I'm agree with Jeff Cavaliere this is a tough program. I took the challenge because I love when it's tough. I'm proud and happy to say that before the program I was at 15 % and now I am between at 10- 11 %. My next goal will be 9 %. Also I am much more athletic and have acquired more strength and power. Thank you Jeff for training me like an athlete. I am grateful to have found the right fitness coach. You are the best in the world and I recommend my friend to join team Athlean. P.S. Tomorrow I'm doing Athlean Xero again for 6 weeks and then I'll buy Xero 2 for 12 weeks. Let's the funnn begin.
Load More
Program Focus:
Builds Muscle, Burns Fat, Bodyweight Training
Skill Level:
Beginner to advanced
Training frequency:
5 days per week
Required Equipment:
None
Program Includes
45 Day Step-by-step training system
150+ Unique Exercises
Challenges that ensure progress
Six Pack Shuffle Ab Sculpting Program
the complete X-factor meal plan
X-FACTOR MEAL PLAN
Building muscle and losing fat is easier than ever! This simple to follow meal plan provides the step by step guidance to make sure you never fail while keeping it adaptable to your specific tastes. No calorie counting or measuring required – and STILL get shredded!
Meal Plan features
Updated Supplementation Guide
Adaptable to meet specific tastes
No calorie counting or measuring
Proven to get results!
Original Price
$97.00
You Pay
$79.95