Estimated
Est.
Read Time: 1 minute
Want to get rid of that arm jiggle,
Or that little bitta bra bulge?
The best kind of moves for that will both build tone and blast fat!
UPPER BODY FAT BLAST!!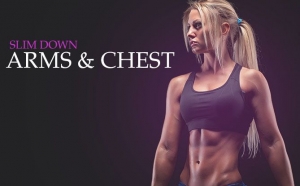 While you know it's not possible to spot reduce just a single area,
You CAN build muscle and burn bodyfat at the same time!
And that's precisely the principle ATHLEAN-XX is built upon.
See what our circuit workouts can do for you!
PEACE, LOVE & LUNGES
SUE
P.S. The accompanying AXX Meal Plan supports your goals whether it is to build more muscle tone, burn fat or both! And it's definitely NOT about eating less. Learn more here!
Watch the YouTube version of this article
Popular & Trending