Estimated
Est.
Read Time: 4 minutes
WELCOME TO THE DELTOID DOZEN!
When it comes to building a big upper body, the delts almost always come in as most people's 4th priority.
When training upper body, usually chest gets all the attention. Biceps and triceps after that. The shoulders finish second to last, just ahead of the highly neglected back.
This is a HUGE MISTAKE!
One that's going to leave your upper body looking much smaller and less impressive.
No one can deny that a fully developed set of shoulders can do a lot to enhance the appearance of your upper body.  Wider shoulders are what create a larger more balanced look, so this is not a muscle group you want to neglect!
No one can deny that a fully developed set of shoulders can do a lot to enhance the appearance of your upper body.
To fix this common workout oversight, I'm going to show you my 12 best shoulder exercises. These will hit your shoulders from every angle: front delts, middle delts and rear delts.
And no one gets to cop out on this one because there are exercises below for all types of equipment: barbells, dumbbells, plates, bands and even your own bodyweight!  That means you can hit shoulders just as hard whether you're at the gym or at home.
Most importantly, as a physical therapist I've made sure to choose exercises that are going to keep your shoulders healthy and injury free!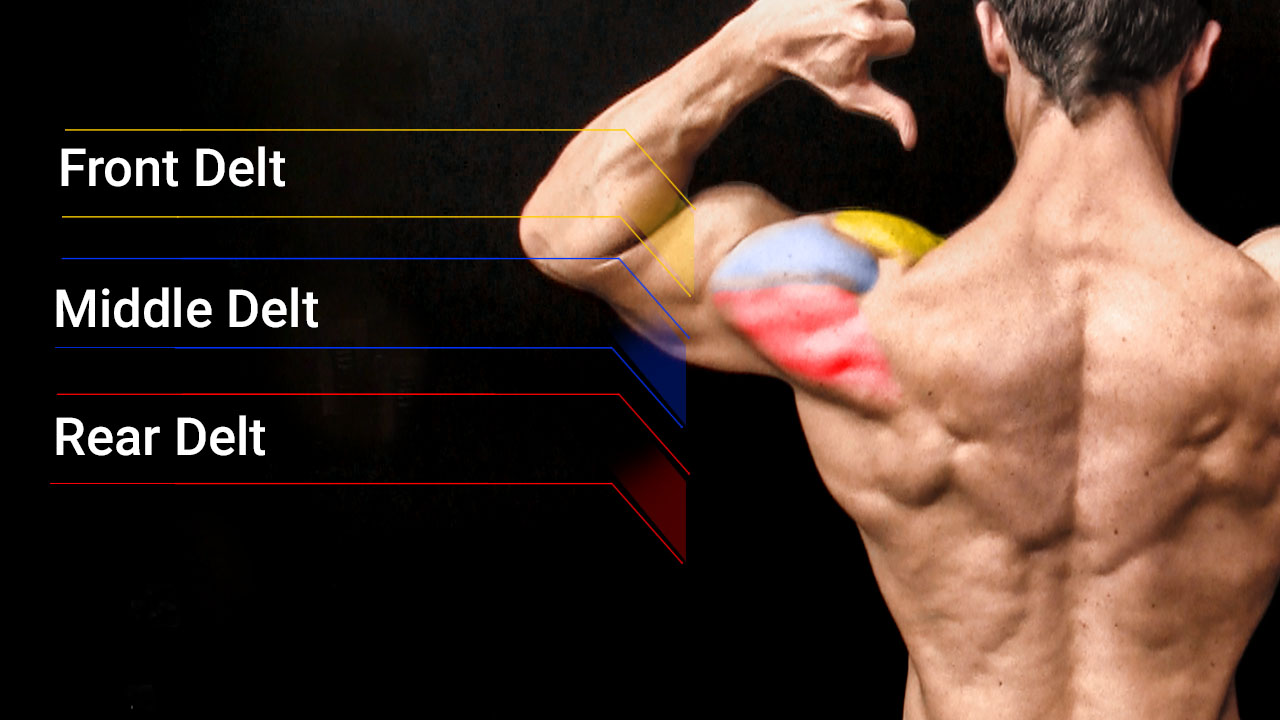 12 best SHOULDER exercises
Here are my 12 favorite shoulder exercises (and one NOT to do).  Not only will I show you the moves, I'll give you a brief indication of what function and portion of the shoulder they hit and why I chose them!
1.)

RELAY RAISES
ROTATIONAL FRONT DELT/CORE POWERHOUSE!
2.)

HIGH BOY ROWS
POSTERIOR DELT/UPPER BACK DESTROYER
3.)

OBB LANDMINE PRESS
SCAPULAR PLANE PRESSING POWER!
4.)

SEATED LONG LEG PRESS
MOMENTUM ELIMINATOR!
5.)

OBB TWISTING THRUSTERS
ATHLETIC POWER BUILDER
6.)

PLATE PRESS OUT/ PLATE 8 COMBO
TIME UNDER TENSION INFERNO
7.)

DB PUSH PRESS
EXPLOSIVE POWER FROM THE GROUND UP
8.)

DB "W" RAISES
REAR DELT / ROTATOR CUFF SALVATION!
9.)

cheat laterals
SHOULDER BLADES HAVE STOPPED AND ARMS KEEP MOVING (BAD)
10.)

upper limit lateral
SHOULDER BLADES HAVE STOPPED, THEN YOUR ARMS SHOULD STOP AS WELL!
11.)

DB HIGH PULLS
UPRIGHT ROWS DONE SAFELY
12.)

MULE KICK PUSHUPS
BODYWEIGHT BEAST
Now you've got 12 new weapons to add to your deltoids building arsenal!  As you noticed, I didn't just show you the exercises, I told you why I feel each qualifies as one of the best twelve shoulder exercises you can do to add mass and definition to your upper body.  Some of the exercises are athletic and functional, some allow for more muscle overload, and others are more explosive allowing you to lift more weight.
THE HIGHLIGHT REEL:
THE 12 BEST SHOULDER EXERCISES
The delts are one of the most neglected upper body muscle groups! They usually come in fourth place behind chest, biceps and triceps in terms of training priority.
Not training shoulders often enough is a big mistake because not only are they important functional muscle group, their width has a huge influence on the overall size and appearance of your upper body.
You can stop overlooking your shoulders right away by implementing some of the 12 safe and effective shoulder exercises I've shown you. They hit front, middle and rear delts, and there are some that can be done in the gym while others can be done at home.
It's always tough to make a list of "best" exercises and anyone that has any of my programs would tell you, there are a LOT to choose from. If you're looking for a complete program that puts science back into strength and gives you not just the 'what' but the 'why' behind exercise selection, check out our ATHLEAN-X Training Programs.
Watch the YouTube version of this article
Popular & Trending